This is an Eval Central archive copy, find the original at freshspectrum.com.
It's time to stop designing reports for that one person who one time printed and then, subsequently, read your report.
For the vast majority of people, your report is a website. It is read using a digital device, connected to the internet, and served from someone else's computer (a.k.a. a server probably owned by Amazon).
So what does that mean? Well, it's time to design your report like the website it truly is, taking advantage of better/more useful technology.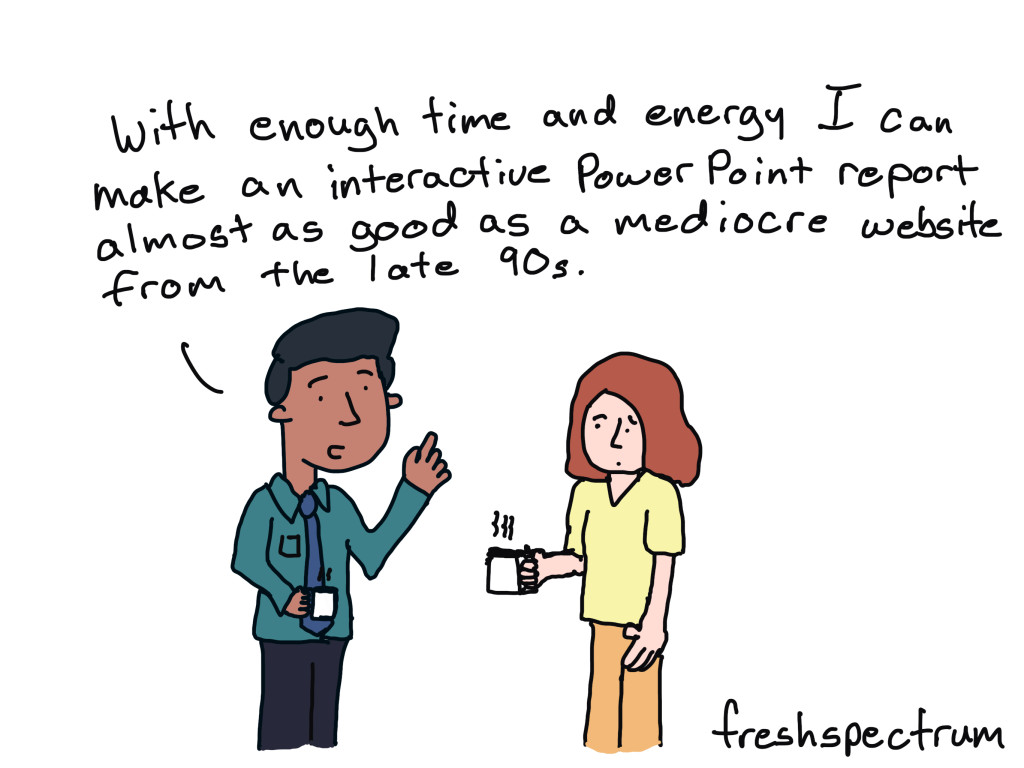 "Did you know that you can create interactive reports in PowerPoint?!? Or PDF! Or Canva! Or Google Docs! Or Tableau! Or Word!"
With linking and basic menus you can make almost anything work like a website.
You can also write a novel with pencil on post it notes. The fact that you CAN do something, doesn't mean you should.
Creating an effective interactive report using non-web design tools is going to result in a mediocre report design that will likely take much longer than just using a tool like WordPress.
Why WordPress?
WordPress powers over half of the internet. It's open source and has continued to evolve over decades.
Using WordPress doesn't require huge software license investments.
There are tons of WordPress developers in the world, so if something goes wrong, you don't have to find that one expert to fix stuff. Or pay some consultant at Tableau hundreds of dollars an hour to fix what broke.
You can do SOOOOO much with a modern WordPress site, even without any plugins. Far more than any of our standard reporting tools.
WordPress can easily be built for accessibility.
Since WordPress is such a popular platform it has had a profound influence on shaping the evolution of modern web design.
You can build both privately and publicly, on in-house servers or through a myriad of cloud based hosting services with the proper encryption.
WordPress sites are way better for SEO than any PDF, PowerPoint, or data dashboard tool could hope to match.
WordPress sites work really well with social media, email marketing, video, and other modern dissemination channels.
Don't believe me, I'll prove it!
This is my new mission (alongside teaching data design).
I'm going to build cutting edge interactive reports and data dashboards using WordPress.
Right now I'm developing out a concept gallery that I can use to show off certain concepts I have only shared with specific clients. Stay tuned.