This is an Eval Central archive copy, find the original at evalacademy.com.
This article is rated as:

---
In my role as an evaluator specializing in qualitative methods, I use interviews and focus groups A LOT. Interviews and focus groups are strategies used to gather in-depth qualitative data from stakeholders. They're great methods for capturing perspectives and stories. For further insights on how to conduct interviews, check out this Eval Academy article.
However, interviews and focus groups also have their participation challenges. Stakeholder groups such as those who don't have access to technology are often excluded from virtual interviews, and individuals who can't afford travel costs or arrange childcare for example can be excluded from in-person interviews. Stakeholder groups who are unable to communicate in the interviewer's language or would prefer to speak their own are also easily excluded from participating.
In Canada, the primary language for over 10% of the population is a language other than English or French (Statistics Canada, 2022). A real-time interpreter to translate the interview or focus group conversation can help ensure these individuals' voices are heard within your evaluation.
In this article, I share my top tips for running an interview or focus group using a real-time interpreter. I do this by reflecting on a recent online focus group I completed which utilized an Arabic interpreter.
---
How to decide when to use an interpreter
So firstly, how do you decide when to use an interpreter? Some evaluations may request it within their RFP. In others, when developing the stakeholder matrix and identifying your target groups in the planning stage, it might become apparent that some key groups cannot communicate in the evaluator's language, or they may be more comfortable conversing in their own. To help you decide whether an interpreter is needed, you can also take a look at this article on ethical decision-making in evaluation.
Once it's determined that a real-time interpreter is required, a good place to start in recruitment is to ask the organization or program for recommendations of anyone they have used before or of someone they think may be appropriate. In my experience, a professional translator is not always required as we recruited an individual with bi-lingual capabilities identified by the program. In that case, your local university can also be a good place to turn to for ideas and support. Qualities to look for in a real-time interpreter include:
A professional communicator; someone who is comfortable and thrives when speaking to new people

This includes fluency and experience in conversing in the evaluator's language and the participant's language. It is particularly useful if the interpreter has knowledge of the social and cultural background of the participants

A professional listener

This includes attention to detail as well as the ability to engage others
It is important to consider whether the interpreter will receive payment for their services. This should be discussed with the organization or program you're evaluating. If the interpreter is a volunteer from the organization or program, or from a local university, consider offering an incentive that aligns with incentives provided to interview or focus group participants. Check out this Eval Academy article to learn more about incentives for participation in evaluation.
When using an interpreter within an interview or focus group, I suggest 3 main steps:
Preparation

Data collection and real-time interpretation

Debrief
---
Step 1: Preparation
Using an interpreter within an interview or focus group will mean the session requires more time. If an interview is expected to take 30 minutes in the evaluator's language, I would suggest setting aside an hour using a real-time interpreter. If you planned a focus group for 90 minutes, consider scheduling 3 hours. If you planned several interviews with individuals that all require interpretation, you could consider scheduling as a focus group for efficiency. Due to the increased time needed, it's best to keep these focus groups to a maximum of 3 to 4 people to allow for in-depth conversation and real-time interpretation.
It's important to meet with your interpreter before jumping into data collection. Your interpreter should understand the purpose of the data collection and ideally have some knowledge of the cultural and social background of the participants. This first step is vital to ensure accurate interpretations from the qualitative data collected in the interview or focus group. This will also provide you with the opportunity to assess the interpreter's experience with translating interviews and focus groups. In this preparation meeting, you should:
Provide the interpreter with an overview of the project or program you're evaluating, why you're evaluating, why you're collecting data from participants, and how that data will be used

Share all necessary materials with the interpreter in advance (e.g., interview guide, consent form, etc.) so that they can translate it into the appropriate language

Run through the question guide to recap each question and the associated probes to ensure the interpreter understands the purpose and intent of the questions

Participants should be made aware that an interpreter will be available at the interview or focus group and they can communicate in their own language. Therefore, it is helpful to translate all pre-interview/focus group documentation such as the invitation, information sheet, and consent form, and include a brief introduction to the interpreter in your invite

Pre-determine how you will run the interview or focus group (see step 2). You should also make it clear to the interpreter that you would like them to translate the conversation as accurately as possible to avoid any potential judgemental language or interpretation bias. This will help to minimize misunderstandings by relaying the message in its entirety
---
Step 2: Data collection and real-time interpretation
Now you've completed the preparation, it's time to start collecting data. When facilitating the interview or focus group, it is helpful to record the conversation so you can listen back to it later and transcribe it. Make sure you gain all the participant's and interpreters' approval to record the interview or focus group.
When using an interpreter in the interview or focus group, I've found that it's best to break up any large portions of text into blocks of a couple of sentences, then have the interpreter translate each block. It's important, like with all interviews or focus groups, that participants are given the opportunity to ask any questions before the interview begins. Make sure participants fully understand their rights and that participation in the discussion is voluntary.
If there are multiple participants in a focus group setting, I suggest asking each interview question to each participant and then asking the interpreter to translate their response before moving on to the next individual. This helps to ensure that the interpreter relays the participant's response in as true a form as possible.
Your main job as the facilitator is to influence the direction of the focus group or interview and interpret the meaning of the participants' responses. Therefore, while the interpreter translates the response, it is important to take notes for any probes you want to ask the individual. You can also ask the interpreter whether they themselves have any follow-up questions. Within a focus group, it is important to allow participants to build upon each other's answers by using probing questions such as "did you have anything to add to x participant's answer?". For focus groups, don't forget to take notes on any relevant body language you view as the conversation is happening like whether there are any dominant voices for example.
The diagram below by Quintanilha et al (2015) provides a visual of the role of the facilitator (i.e., researcher) and interpreter within the focus group setting.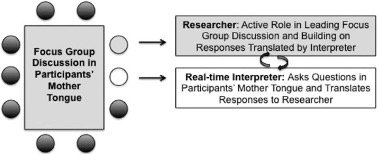 ---
Step 3: Debrief
Immediately after the interview or focus group, it is useful to hold a quick debrief with the interpreter to recap the discussion and expand on the main discussion points. This can support the validity of findings by ensuring meaning has been interpreted correctly.
If you had permission to record the discussion, it's important to consider the higher costs of transcribing when using a real-time interpreter. To reduce costs, I suggest listening back to the recording and only transcribing the sections translated into the facilitator's language. To do this, you could use audio trimming software like iMovie or Audacity. Take a look at our previous article on how to transcribe interviews like a pro.
Once the audio has been transcribed, it can be useful to verify the transcript with the interpreter. I suggest sending the transcript to the interpreter and asking them to review it for accuracy and meaning.
When analyzing and presenting your results, make sure you discuss how a real-time interpreter was used to collect and make sense of the data, as well as any possible bias or limitations as a result. This might include power imbalances through interpreter-researcher-participant dynamics or challenges encountered when the flow of the discussion is hindered using back-and-forth interpretation.
---
What's your experience of using a real-time interpreter in an interview or focus group? Comment on this article or connect with us on LinkedIn or Twitter!