This is an Eval Central archive copy, find the original at freshspectrum.com.
In today's post I talk about an upcoming change to how I blog and why writing for Google works, but for me, shouldn't be the point.
It works. But that's the problem.
There is pretty simple logic behind writing for Google.
People use Google to find information, often in pursuit of answers to their questions. If you can do an adequate job of answering those specific questions, you will likely start showing up as results in the search engine.
For instance, if you search for Canva Accessibility, you're likely going to find a blog post by me ranked fairly high on the Google search page.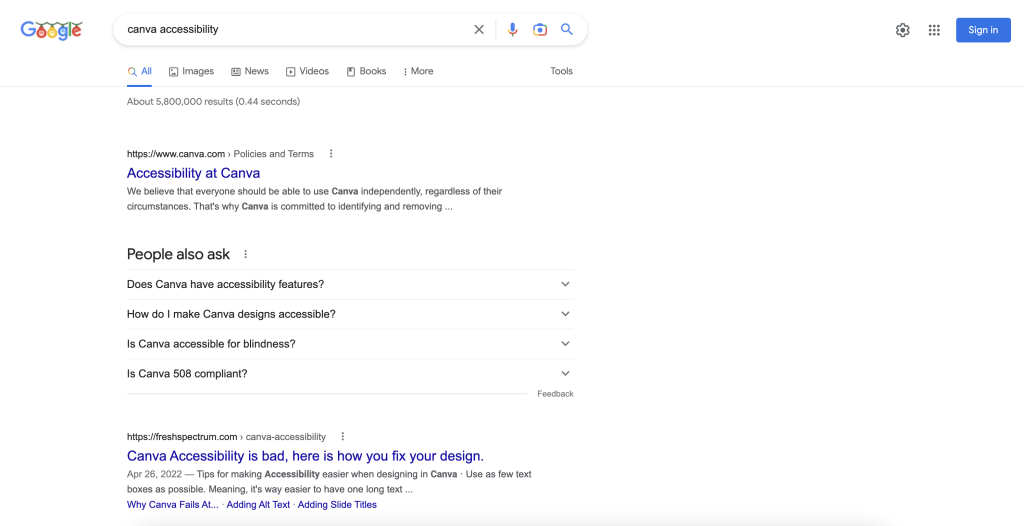 Same thing happens if you search for how to convert Canva Reports to Word.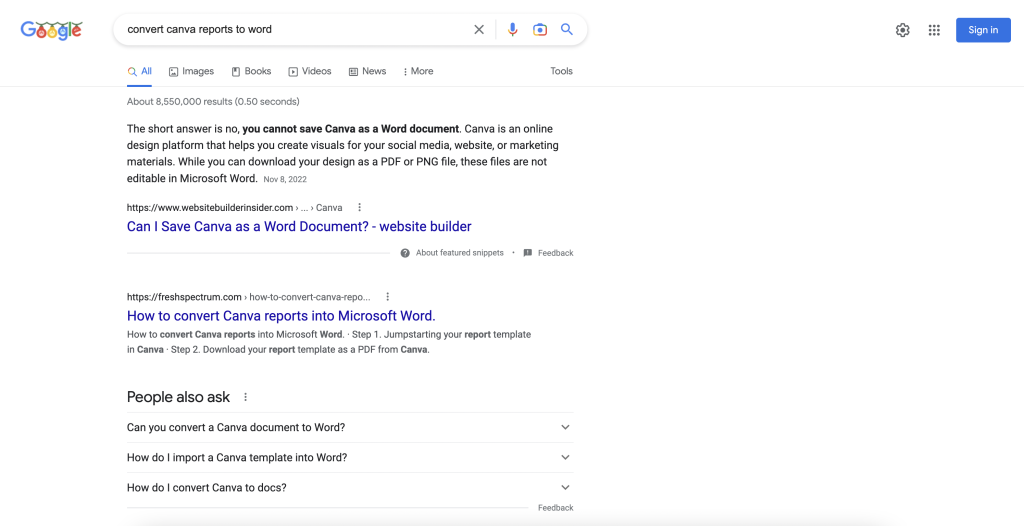 Now I've been doing this strategically over the past year (answering questions people have so that they rank high on Google). As such, I've had a big increase in my website traffic. My website has become a resource for people looking to improve their design skills.
As an independent consultant I had convinced myself that this was a good thing. If I could be a design resource it would lead more people to my workshop or towards hiring me for gigs as a web, graphic, and data designer.
But the more I reflect, the more I think it's flawed logic.
I have fallen into a trap.
When you write for Google, you write for discoverability. You write to offer out resources into the world that can help people in need of those resources.
But here is the problem. Resource articles that do well on Google might be useful to the people with those questions, but they're often pretty boring. They serve mostly an audience of strangers. But for the people who don't care about the specific question, they offer nothing.
I've been playing the Google game successfully, and my Google score has been going up. But I'm not sure that makes sense for me and for this particular site.
Why not write for the people who already know I exist?
Most of the people who become my workshop participants or clients knew me first as a cartoonist. Or they saw a presentation I delivered at a conference or on a webinar. They didn't discover me through Google.
And by THEY I also mean YOU. There are plenty of exceptions, but YOU likely "met" me first as an evaluation cartoonist.
Now that doesn't mean you are only interested in the cartoons. The comics are really just reflections of the important but sometimes absolutely ridiculous things that we see in our field. The blog posts that do best for my existing audience are the ones that dig deeper into my life and reflections as an evaluator and designer in the 21st century. And then go deeper into what you yourself might be able to draw from these lessons.
But these posts don't do well on Google. Because nobody is actively searching on Google for my cartoon illustrated reflections on the modern data world.
More like a columnist, less like tech support.
So what does this all mean?
Well, I made a decision. I'm going to stop writing for Google and focus more on writing for you (and me). This space is going to be a blog again.
In other words less tutorials, more essays.
I'll still teach design, but intentionally through my workshop not here on the blog.
Have any thoughts?
I am curious about what you think. This will likely be the way I move forward for the next few months regardless of feedback, but any feedback I'm given is always appreciated and considered.
Thanks for hanging out with me, -Chris.