This is an Eval Central archive copy, find the original at evalacademy.com.
Whether starting a new program or making changes to an existing one, you're going to be faced with numerous questions about how best to move forward. And some of those questions can feel pretty daunting! Many organizations use environmental scanning as a method of strategic planning to gain insights and gather information on how to put their best foot forward.
This article is aimed at those who are new to environmental scanning and are looking for new ways to support program planning and improvement.
---
What is an environmental scan?
Environmental scans started out as a tool for businesses to find and organize information that could be used for decision-making.
The process of environmental scanning includes finding, gathering, interpreting, and using information from the internal and external environments of an organization to help direct future action.
This method uses multiple strategies for information collection such as focus groups, in-depth interviews, surveys, literature reviews, and reviewing personal communications, policy analyses, and internal documents.
The results of an environmental scan can be very useful in helping an organization or program shape its goals and strategies.
---
What's the difference between an environmental scan and a literature review?
Unlike a literature review that searches for published, peer-reviewed articles, an environmental scan also examines unpublished literature and publicly available information.
An environmental scan also incorporates methods such as interviews and focus groups not used within literature reviews.
---
Why should I complete an environmental scan?
Scanning the environment is an important part of strategic planning and has been linked to improved organizational performance.
Environmental scans can help plan for the future, provide evidence about potential directions for an organization or program, raise awareness of risks or issues, or help to initiate a new program.
The diversity of information sources and types of information gathered through environmental scans have helped organizations to effectively plan and implement programs across a variety of sectors.
---
When should I do an environmental scan?
You can take a reactive approach (e.g., a challenge has arisen that needs to be addressed) or a proactive approach (e.g., a new program is being implemented and you want to ensure its success) to scanning.
Scanning is typically more frequent when an organization or program has higher levels of perceived uncertainty, such as when taking a new direction or during its start-up.
---
How do I complete an environmental scan?
To complete an environmental scan, we typically follow six main steps:
Identify the purpose of the environmental scan and your topics of interest

Identify the research question(s)

Identify the activities you will complete and where you will look for information

Create a list of keywords and search terms

Catalogue the information systematically

Present the information in a way that is useful for your organization
Step 1: Identify the topics of interest and the purpose of the environmental scan
Before jumping onto the internet to search for information, it is first important to specify the purpose for the environmental scan and identify your topics of interest. This will help to anchor the process, focus your time and resources, and avoid those rabbit holes! Although an environmental scan should remain flexible to allow for new questions that might arise, having a clear scope will help you stay focused.
For example, let's say we're looking to create a new program in the Vancouver region that aims to provide mental health support to isolated and elderly individuals, but we're not sure what similar programs are already out there. To avoid duplicating services and making sure we reach a portion of the target population that isn't already being served, the purpose of our environmental scan would be to:
"Support the development of a program that aims to improve the mental health of the isolated and elderly by learning about available programs and identifying their strengths and weaknesses."
Our topics of interest would then be:
Examples of programs that are currently available in the Vancouver region which aim to improve the mental health of people aged 75+ who are isolated (e.g., live alone)

Identifying what the programs currently do well including effective modalities, treatment options, and who they are reaching

Identifying gaps in the programs such as treatment options that are not provided and target populations that are missed
Step 2: Identify the research question(s)
Now that you're clear on your environmental scan purpose, you can narrow this even further by identifying your research questions. This is the broad rule for knowing when to stop your search and will help you to decide whether an article or website is worth continuing to explore. I tend to recommend having between 1 and 3 research questions for an environmental scan that dig a little deeper into your topics of interest to really pull out all the juicy details you're looking for!
The research questions for our example environmental scan could be:
What programs are currently implemented in the Vancouver region for the isolated and elderly (75+ years of age) which focus on improving their mental health?

How do these programs operate and what makes them effective?

Who is the audience that they're reaching and how do they reach them?

What modalities do they use (e.g., group settings, individual therapy)?

What treatment options do they implement?

Are there any gaps in these programs?

Are there any of the target population that are not effectively captured by the program?
Step 3: Identify what environmental scan activities you will complete and where you will look for the information
Once we have our topics of interest, purpose, and research question, next it's time to identify what activities you'll complete and where you'll look for the information to answer your questions. In an environmental scan, your activities can focus on understanding the internal (your organization's) or external (other organization's) environment to the particular topic. This will help to provide input into strategic thinking, decision making, and planning.
For understanding the internal environment, appropriate activities could include:
Reviewing organizational documents (e.g., organizational strategy, policies, or internal communications)

Interviewing members of staff
For understanding the external environment, appropriate activities could include:
Grey literature searches on the internet (e.g., Google search)

Interviews or surveys with organizations or individuals of interest identified through your online search
Don't forget that you'll also need to present your findings in an appropriate format for your organization whether that's a report, infographic, or a presentation! (See Step 6 for further info)
Although looking online for information is important in an environmental scan, involving stakeholders can be the key to its success. Frequently grey literature searches like reviewing websites can leave you falling short on all the details needed to answer your research questions. Reaching out to key individuals at the organizations of interest with an invitation to take part in an interview or survey can help you to fill these gaps. For example, many Indigenous organizations will have reports and summaries or have participated in other scans and engagements, so having the opportunity for Indigenous organizations to recommend grey literature is important to help fill gaps in knowledge and understanding.
Before reaching out to stakeholders, make sure you have a clear understanding of what information is needed from them. This can help with engagement fatigue and make sure you're asking the right questions. You should only ask them for information that you are not able to uncover on your own. Create a clear plan for conversations with participants, such as having a clear set of questions or requests for further information. Be prepared to answer further questions about the environmental scan process and why you're interested in learning more about their work and organization. Lastly, be aware of who you are interviewing and methods for appropriately and respectfully engaging them. For our example, if you are interviewing Indigenous Elders then be aware of the protocol with visiting Elders and what you need to bring to respect the knowledge and teachings you will receive from Elders.
The type and volume of activities you'll complete are often affected by the amount of time that you have to finish the environmental scan. If a timeline isn't established for you by a funding agency or by your leadership, it is important that you create your own timeline from the outset to help you plan and stay on task. If interviews of surveys are part of your environmental scan, make sure you allocate yourself plenty of time for creating the survey tool and interview guides, reaching out to your participants, collecting and analyzing the data, and interpreting your results.
The activities for our example environmental scan could be:
Environmental scan of grey literature looking for examples of similar programs in Vancouver. Best practice examples from other geographies may also be included if "gold standards" are discussed

Contacting organizations who have implemented similar programs for follow-up questions through telephone interviews

In-person interviews with members of the target audience to learn how future programs could be improved for them

Presenting a selection of similar programs and treatment options through a final report
Step 4: For online searches, you'll need to create a list of key words and search terms that you will use
To make sure you're looking for information in the right places while searching online, it's important that you create a list of key words and search terms to help guide your search.
To start this process, make a note of all the key terms that will help you to capture your topics of interest. Cast your net wide to make sure you don't miss anything. Then break down these topics into clear concepts and keywords.
For our example environmental scan, a list of key terms could be:
Mental health programs

Isolated

Elderly

Vancouver

Effective modalities

Treatment options
Using key terms such as "Indigenous", "Female", "LGBTQ2S+", "Newcomer", "Black" amongst others will help ensure an intersectional lens to your search.
The next step is to identify any of these concepts that could be expressed using related terms or synonyms. You can make a list of these under each of the key terms.
Boolean searching through creating search strings is a common way to look for information in online databases and can also help to frame internet searches. Boolean searching uses connector works such as AND, OR, and NOT to create phrases based on rules and search logic.
We'll dive deeper into how you can systematically search online databases in our upcoming article on literature reviews!
Step 5: Catalogue the information systematically
Once you've found your sources, it is important to catalogue the information in a systematic way that links back to your research questions. Using a table like the one below that breaks the sources down by your topics of interest can make it very clear and help you when having to present your findings.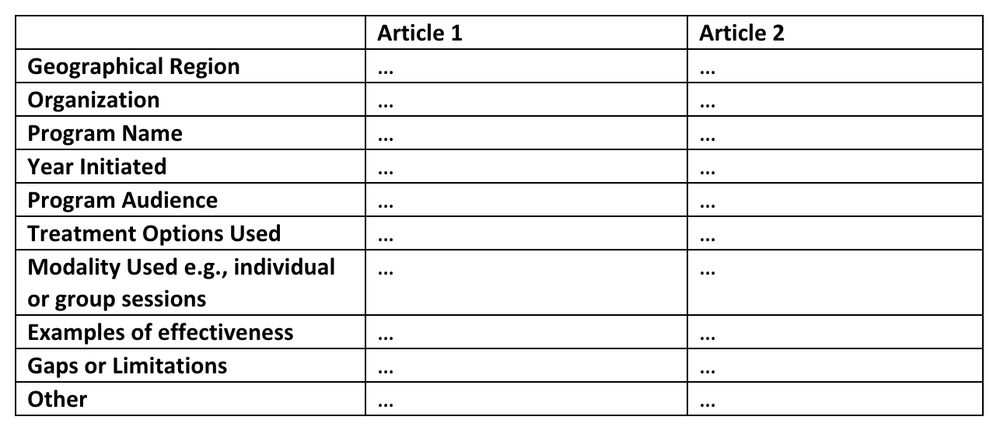 Once you've catalogued your information systematically, you can then reach out to organizations and key stakeholders to request their participation in an interview or a survey to help you fill in the gaps.
Step 6: Present the information in a way that is useful for your organization
Once you've organized, analyzed, and interpreted your information, it is crucial that you present your findings in a way that is useful for your organization. If an appropriate means of presenting the findings is not given to you by leadership, consider your audience and how the information will be used. This will help you to decide the best way of presenting your results. Reflect again on your topics of interest and make sure you present your information in a way that answers the research questions whether that's in a summary report, infographic, or presentation to your organization. Lastly, make sure your work is disseminated and shared with all relevant stakeholders! This includes disseminating your work to anyone who participated in the scan, including any Indigenous stakeholders to align with OCAP principles.
---
What's your experiences with Environmental Scans? Comment on this article or connect with us on LinkedIn or Twitter!
---
Sign up for our newsletter
We'll let you know about our new content, and curate the best new evaluation resources from around the web!
We respect your privacy.
Thank you!
Sources:
Graham, P., Evitts, T. & Thomas-MacLean, R. (2008) "Environmental Scans: How useful are they for primary care research?". Can Fam Physician. 54(7): 1022-1023. Available from: https://www.ncbi.nlm.nih.gov/pmc/articles/PMC2464800/
Polanin, J.R., Pigott, T.D., Espelage, D.L. & Grotpeter, J.K. (2019) "Best practice guidelines for abstract screening large-evidence systematic reviews and meta-analyses". Res Synth Methods. 10(3): 330-342. Available from: https://www.ncbi.nlm.nih.gov/pmc/articles/PMC6771536/
---