This is an Eval Central archive copy, find the original at communityevaluationsolutions.com.
Hello fellow evaluators! My name is Ann Price and I am President of Community Evaluation Solutions (CES), based in Georgia. This year's conferen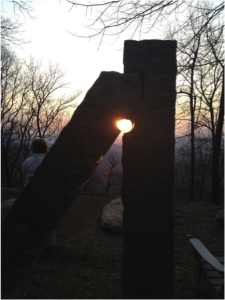 ce theme, Paths to the Future of Evaluation: Contribution, Leadership, Renewal resonates with me. I am often called upon to speak with evaluation classes and frequently meet with evaluators considering consulting as a profession.
CES is a small business and I have come to depend on young evaluators to meet the demands of our work. For the past four years, we have employed a full-time research associate. We employ an intern or practicum student (yes, I pay them!), typically in the summer or fall.
It's a win – win really. I truly enjoy mentoring early career evaluators and community psychologists. My early career employees get training and a great place to start their career. I typically send my RA and intern to the Summer Institute. They also get training in SPSS, qualitative data analysis, Excel, and data visualization and other skills. They work hard but at a pace that builds their confidence. For my part, I get help meeting my clients' needs and gain inspiration from their ideas. I derive satisfaction from the knowledge that I helped launch their careers. My past RA's and students are successful in their current positions. One is in healthcare evaluation, one has a great public health fellowship, one works for Delta doing data analytics, one just got her Master's in School Psychology, and our last RA, Emily, just entered physical therapy school. Here is Emily's blog post about her experience at CES.
The hardest part for me of course is saying good bye when they move on. Even so, mentoring early career professionals is something I truly enjoy!
Tips and Tricks: I always suggest informational interviews as a way to build your network. I try and recommend a few people for them to follow up with after our meeting. Once you connect with someone, stay connected by contacting them every few months. Check out my blog written with about networking. You will also find a link to a video blog within the post.
Rad Resources: Whether its coaching or mentoring my RA and interns, I always share my favorite evaluation resources. For those new to consulting, Gail Barington's book, Consulting Start Up and Management, is a must. For information about creating good data viz, I point them to Stephanie Evergreen and Ann K Emery. Ann also has a pretty nifty Excel course too. Use AEA's own Potent Presentations to brush up on your presentation's skills. I have learned a ton from Chris Lysy who recently started Eval Central a place to connect with other evaluators and from the uber-creative Kylie Hutchison.
Training Tips: Attending AEA is a must of course, but don't forget the Summer Institute in Atlanta. The Institute's sessions are practical and the smaller setting makes it easy to connect with some great evaluators. At this posting we are 1-week away from the 2019 SI. I will be teaching and hope to see you there!