This is an Eval Central archive copy, find the original at evalacademy.com.
The process of writing an evaluation report is like cooking. It can be a joyful and meditative process for some and an annoying necessity for others. Both cooking and report writing take practice; the more you do them, the more you refine your processes and find your own groove. While there is no formula to create a perfect reporting process, there are some key steps that can set you up for success.
Get to know your audience
Pick your recipe
The process of cooking starts long before ingredients hit the pan. For most, cooking starts with picking a recipe. When you are cooking for others it's important to figure out what they are hungry for. Is your audience hungry for a full meal, or do they only have time for snacks? Are they meat and potatoes kind of people or does risotto and lobster tickle their fancy?
Ideally, your evaluation plan indicates which information your audience needs to know and your evaluation framework closely ties the data sources to the evaluation questions that need to be answered. Knowing what your audience is expecting helps you narrow your focus in the report writing process. In addition, like cooking, reporting writing is influenced by time, budget, quality and availability of data (ingredients), audience preference, and your comfort and skill level. Develop an evaluation plan (recipe) that will optimize these factors and be prepared to make adjustments as you go along.
Get to know your data
Grocery shopping
Getting to know your data is like going grocery shopping. In the data collection period, things don't always go to plan. The quantity and quality of your data can vary, just like the availability and quality of produce in the grocery store. In some cases, you can even outsource your data collection, just like online grocery shopping. In this case, it's important to examine the data you received for quality and ensure you have the information you need to answer your evaluation questions. Take some time to understand what 'ingredients' you have and how they fit with your original recipe.
Analysis
Prepping your ingredients
Analysis has been referred to as 'slicing and dicing' data, a cringe-worthy term that fits delightfully into this report writing metaphor. In cooking, how fine or course your chop up your ingredients is directed by your recipe. How you prepare your ingredients is going to affect the final product. Again, like grocery shopping, prepping your ingredients can be done by a sous chef, but how it's done will affect how you, as the head chef, produce a final product. The recipe you choose will give you a plan and starting place.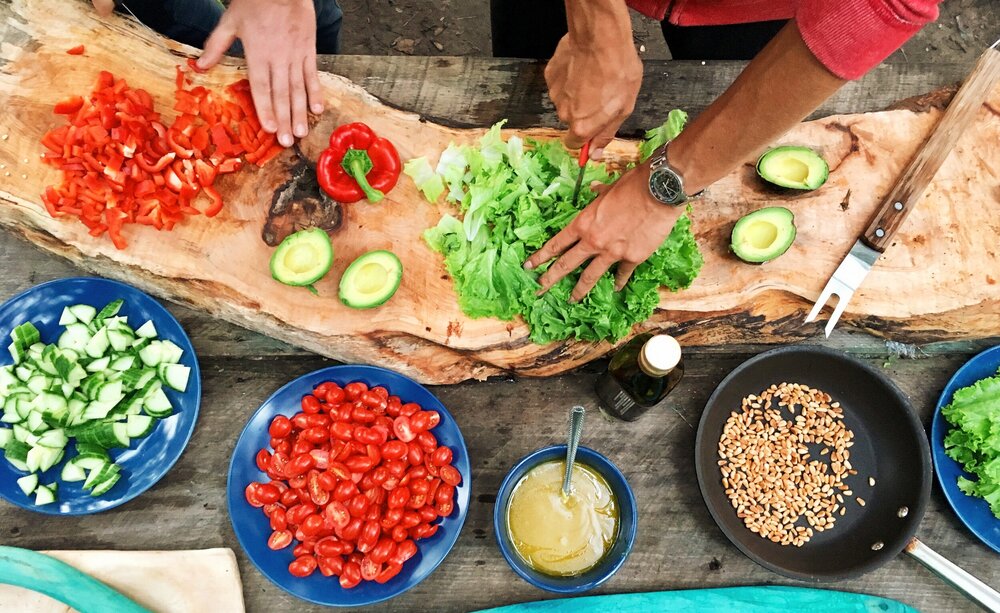 In report writing, your analysis should be guided by your evaluation plan. Your evaluation plan lays out the questions you aim to answer and the indicators you have collected to do so. As you analyze the data, keep in mind how you plan on presenting your data. While a data analyst may be analyzing the data for you, a clear path helps lead to clear results.
Regardless of when you consider your report structure, it's important to consider how the information fits together as you analyze the data.
Outline, outline, outline
Make a Plan
Next up, make your plan. You have all the ingredients, they are prepped, but what order do you tackle things in? I must confess, this is where the cooking metaphor breaks down a little. In cooking, you aim to have all the components of your dish ready at roughly the same time so that everything is served hot. Because of this, you need to be aware of timings and have a game plan in mind of what to tackle, when. In report writing, the parallel isn't so strong. The pieces of data don't all need to come together in a time-ordered way. However, outlining your report (developing your game plan) is a valuable step to help your findings flow together. The processes of outlining your report helps you develop a strong narrative in your writing. A strong outline will help you to remember your guiding questions and key findings as you write.
Key considerations when developing a report outline includes examining how your findings fit together. Does your data flow well together, or do you need a way to cohesively present distinct pieces of information? How will your audience best digest the information? Sketching out the structure of your report provides the structure that allows your audience to follow your logic.
Write
Cook
I've spent a long time discussing the cooking steps that don't involve the actual transformation of ingredients into a dish, and this is on purpose. Preparation is key. Having a recipe, the ingredients to make the recipe, prepping the ingredients, and having a game plan of how they are all going to come together is half the battle. These are all steps you can do in advance to make the cooking process less arduous. The same holds true for writing your evaluation report. Once you understand what your audience wants, what the data shows, and how you are going to piece it all together into a cohesive narrative, writing the sentence and paragraphs is much easier.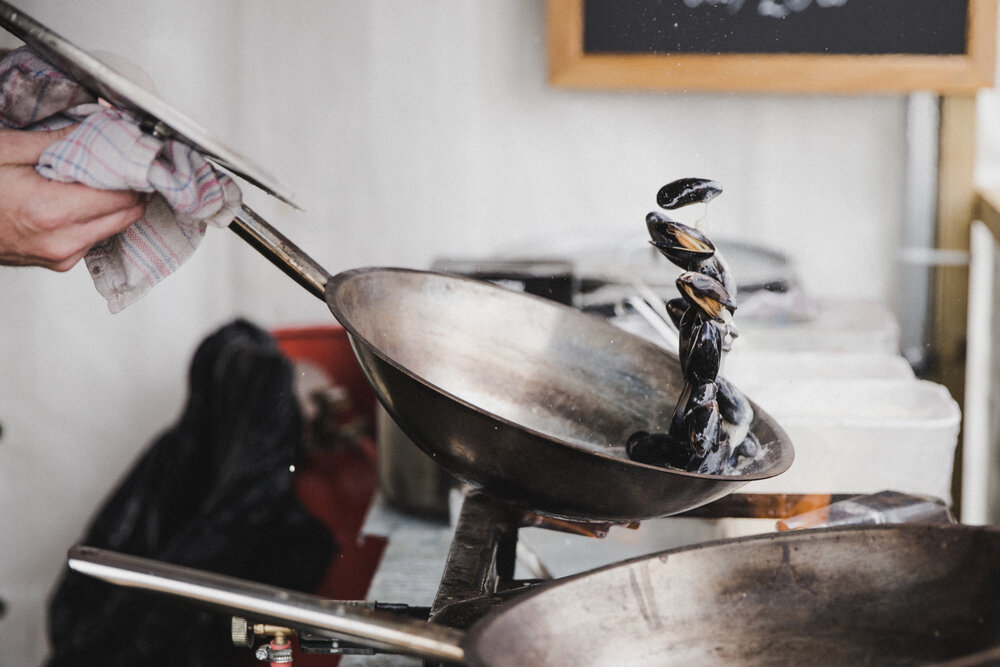 Just like everyone's cooking process is different — some use every pot and pan in the kitchen and leave the cupboards open as they go, while others work meticulously and stepwise — everyone's writing process is different. There are lots of articles and pieces of advice on how to write; common tips include "eat the frog first", or "always stop writing for the day when you have more to say." Engage in your reflexive practice and identify how and where you write best. If you get stuck, got back to your evaluation questions. These are your touchstones.
Cooking can be a constant flow back and forth between prepping your ingredients and cooking. Sometimes you may even find you need to run out to the grocery store for more of something. When you are cooking, it can be helpful to grab a second opinion to taste as you go along. Have you been too heavy-handed with some flavours? Have you drifted too far from the recipe? Is the product well balanced? These principles also apply to evaluation report writing. Sometimes as you write you may notice gaps in the data and need to collect more, or you may find you rely too heavily on one set of findings and neglect to give the other findings time to shine. Getting feedback from peers about what they take away from your report can help you make sure you are getting your key messages across.
Editing
Trim the Fat
Most people tend to dread the editing process. You have poured your energy into crafting the pages in front of you, but that effort won't necessarily be appreciated as-is. It's time to trim the fat. Be ruthless. Do you need each sentence, each piece of information? How much can your audience digest? How much detail do they really need? Turn back to your evaluation questions — how does the data you present answer the questions and how much detail does your audience need?
In the world of cooking, consider how hungry your audience is. Are they full and can only handle small tidbits of digestible information? Or are they ravenous and will eat a 7-course meal without complaint? Your evaluation report is no good if you are providing a 7-course meal and your audience is only interested in the main dish.
Visualization
Food Styling
I have left visualization for last, but I don't believe it comes last, chronologically. Rather, it's a topic all to itself that many others have touched on and can and should come throughout the process. Sometimes visualizing the data can be just as powerful as writing about it. A good visualization helps you to make your point and a bad one muddies the water and puts your audience to sleep.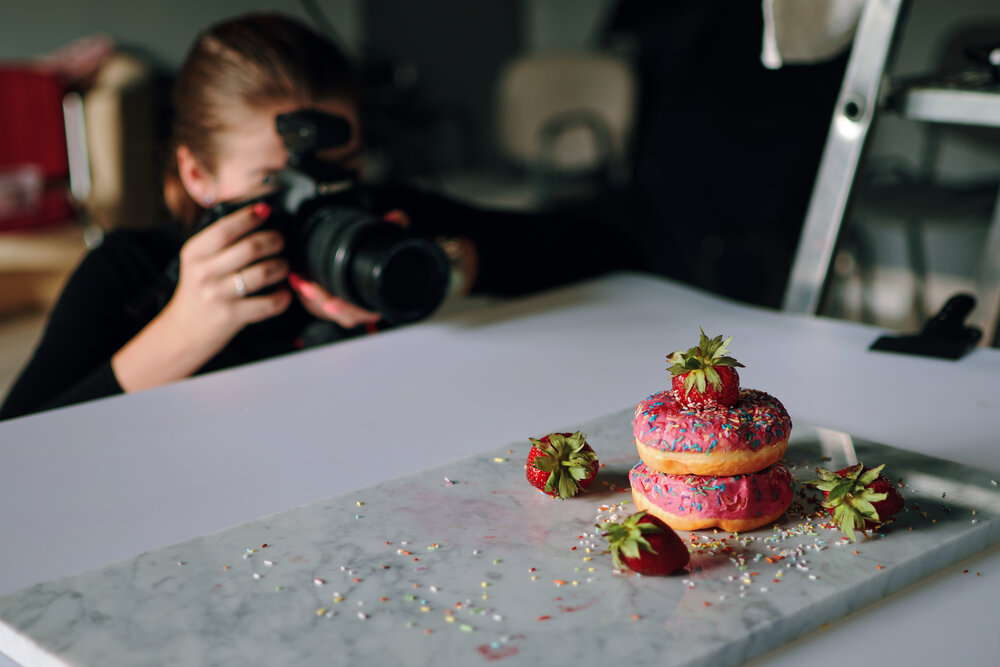 At this point, you may be overwhelmed at the number of hats you are supposed to wear—from recipe developer, to shopper, sous chef, head chef, and now food stylist. Don't be alarmed. You don't have to be a pro chef to learn some simple tricks that spruce up your presentation, like twirling the plate, not the spaghetti, to create an Instagram-ready plate of spaghetti. There are lots of simple visualization tricks you can employ to make your presentation more appealing (like Evergreen Data and Depict Data Studio). People eat with their eyes first and in the world of evaluation reports, appearance can make a big difference.
Let's be honest, this part is often a little rushed and is not the time to be developing the stylistic elements of your report. It is, however, the time to be tweaking them. Small things that make a big impact include: using colour selectively, adjusting your heading styles, and adding white space so your words can breathe. Use stylistic elements like colour, icons, and fonts to link ideas and make key points stand out.
The visualizing and stylistic components are the icing on the cake — considered frivolous or extra by some, the thing you usually run out of time for, and something that can take ages if you aren't careful — but they are essential and what makes people interested in trying what you've made. No matter how good your meal tastes, if it doesn't look good, people aren't going to want to eat it. No matter how good the findings in your evaluation report are, if they are not presented in a way that's intuitive to understand and appealing, they are unlikely to gain much traction.
Conclusion
It's time for an apology. I promised to show you how writing an evaluation report is like cooking, and I spent the majority of the time explaining how to do everything else before and after the writing part. Hopefully you can see that writing evaluation reports is not just about writing the words that make up the report. It's a process that starts as the evaluation plan is developed and continues as you collect and analyze data. A strong evaluation report starts with a strong evaluation plan. Like cooking, there are steps you can follow to make the report writing process easier. Developing your reporting style and process takes practice. Don't be afraid to get feedback from your peers and clients and try to have fun with it!
---
Sign up for our newsletter
We'll let you know about our new content, and curate the best new evaluation resources from around the web!
We respect your privacy.
Thank you!
---