This is an Eval Central archive copy, find the original at freshspectrum.com.
I just relaunched my free resource library, here is what you'll find inside.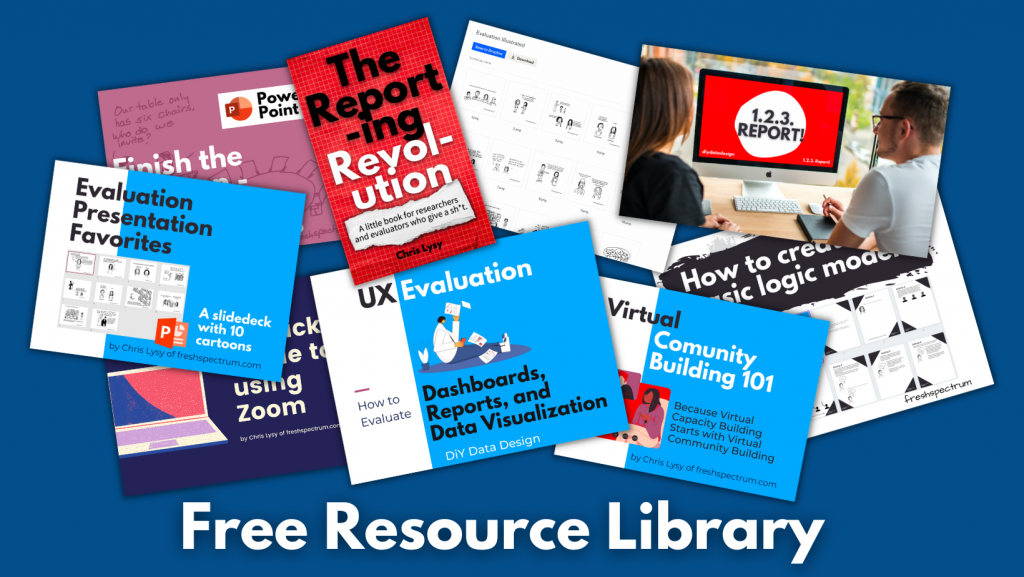 Limited Time Downloads and Events
As of today you'll only find one time limited download, my in-process book The Reporting Revolution.
This section will change often as some resources I share only stay free for short amount of time. I'll try to always keep at least one thing in this section, it could be anything from a free course module to an upcoming webinar.
eBooks, Guides, and Cartoons
This is my catch all section for most of my resource downloads. Currently it includes the following:
UX Evaluation [PDF]
Virtual Community Building 101 [PDF]
How to create a basic logic model [PDF]
A Quick Guide to using Zoom [PDF]
Evaluation Presentation Favorites [PowerPoint]
Finish the Cartoon: Engaging Stakeholders [PowerPoint]
Evaluation Illustrated Full Cartoon Collection [Dropbox Folder]
The Evaluation Illustrated Cartoon Collection is newly shared. Originally you would have had to buy the book to get full access. Now you can get access to downloadable copies of all 114 cartoons for free.
Free Courses
Right now I only have one free course but I do have a couple others in mind.
YouTube Channel & Tutorial Links
I have my recent tutorial posts listed out by category (i.e. Excel, Canva, Evaluation) you'll also find a link to my YouTube channel which features videos not always shared on this site.
Enjoy!
Use this link to check it all out.
And please feel free to share with your friends!